James Lynah
1735 - 1816
From Google:

James Lynah, surgeon, was born at Dublin, Ireland, in 1725, where he received both his collegiate and professional education. After graduating in medicine he entered the British Naval Service, and received a surgeon's commission. Rescued from shipwreck in the West Indies, he was taken to Kingston, Jamaica, whence he removed to Charleston, South Carolina, about 1765 or 1766. Settling in the wealthy and cultivated Huguenot settlement of St. Stephen's Parish, he soon acquired an extensive and remunerative practice, but on the outbreak of the Revolution he espoused the cause of the colonies and served at intervals with Marion's corps. He was also surgeon in Col. Joseph Maybank's cavalry regiment, and was "chief surgeon of the Regiment of Light Dragoons" in Col. Daniel Harry's cavalry, in which capacity he was present at the siege of Savannah. When Count Pulaski was wounded in this fight Dr. Lynah, with the assistance of his son and two others, removed him from the line of fire and extracted the bullet on the field. This bullet and a note from one of Count Pulaski's Aides-de-camp is now in the possession of the Historical Society of Georgia.





At the close of the war he removed to Charleston, South Carolina, where his attractive personality and professional skill enabled him to build up a large practice. He was one of the founders of the Medical Society of South Carolina, and at the time of his death held a commission as surgeongeneral of the state of South Carolina.





He died of pulmonary tuberculosis in October, 1809, and was buried at Laurel Spring Plantation.

He married in Ireland, and one son, Edward Lynah, who likewise studied medicine, was the sole issue of which there is record.

A fine portrait, by an unknown artist, is in the possession of Mr. J. H. Lynah of Savannah, Georgia. (

Note: this portrait is almost certainly this one at the Telfair Museum)
R. W., Jr.
(Note that this document lists the birth and death years as 1725-1809)

1866 letter by James Lynah about his grandfather, Dr. James Lynah. "... His face was noble and beautiful. He could strictly be classed as among the gentlemen of the old school. The antique style of dress was typified in his person...."

This Lynah removed the grapeshot which killed Polish General Kazimierz (Casimir in English) Pulaski. A Georgia historical marker reads in part, "...General Pulaski was struck by a grapeshot as he rode forward, with customary ardor, from where his cavalry was stationed to rally the disorganized Allied columns. The fatal ball which was removed from his thigh by Dr. James Lynah of South Carolina..."
The Georgia Historical Society relates the words engraved on the stand displaying the Pulaski Grapeshot ""Grapeshot which mortally wounded Count Casimir Pulaski, Oct. 9, 1779, extracted from his body by Dr. James Lynah, ancestor of present owner, James Lynah, Esq." The Lynah family kindly donated this artifact to the Georgia Historical Society, where it is on display to the public."
Learn more about Kazimierz Pulaski from info-poland;there are many links to information about Pulaski and Polish history. For example, from poles.org, a biography and a painting of the wounded Pulaski .

Here is a copy of Doctor Lynah's commission in the Revolution.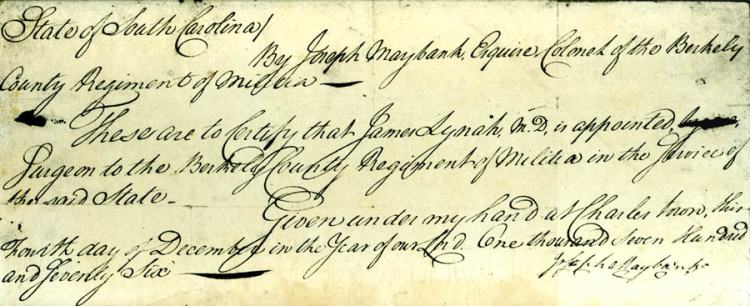 State of South Carolina
By Joseph Maybank, Esquire, Colonel of the Berkely County Regiment of Militia
These are to Certify that James Lynah, M.D, is appointed Surgeon to the Berkely County Regiment of Militia in the Service of the said State.
Given under my hand at Charles town, this Fourth day of December in the Year of our Lord One thousand Seven Hundred and Seventy Six.
Signed Joseph Maybank


From a history of the Carolinas before the split into North and South, this table shows a bit on James Lynah and son Edward Lynah during the Revolution.

If you can find it, this will be good reading: Lynah, James. "Dr. James Lynah, A Surgeon of the Revolution." Edited by A. S. Salley. South Carolina Historical and Genealogical Magazine, 40 (July 1939), pp. 87-90.
UPDATE Ms Katherine W. Giles from the South Carolina Historical Society helped me purchase a digital copy of this article; ironically, it is the same as this letter.

Also available are these documents:
Manuscripts Department Library of the University of North Carolina
at Chapel Hill SOUTHERN HISTORICAL COLLECTION
#442 JAMES LYNAH PAPERS
Summary NOTE: A more complete finding aid for this collection is available at the Southern Historical Collection. Contact staff at: (919) 962-1345 (telephone); (919) 962-4452 (FAX)

Lynah, James, 1735?-1809.
Papers, 1770-1878 (bulk 1786-1853).
60 items.
Surgeon during the Revolutionary War; native of Charleston, S.C.

Correspondence and other papers of Lynah and of his son, James Lynah, Jr., dealing largely with personal and business matters, with occasional references to military and naval affairs. Included are letters from several secretaries of the treasury, secretaries of war, and an attorney general, chiefly concerning personal claims; and letters and clippings collected by Lynah's grandson.

ONLINE CATALOG TERMS:
Lynah, James, 1735?-1809.
Lynah, James, fl. 1800-1853.
United States--History--Revolution, 1775-1783--Claims.
COPYRIGHT: Retained by the authors of items in these papers, or their descendants, as stipulated by United States copyright law.



See more Lynah family history